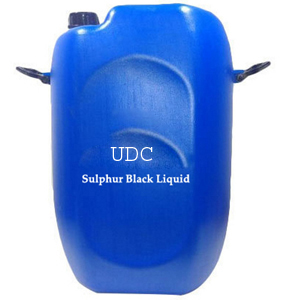 Sulphur Black Liquid
---
Granular sulphur dyes have become very common in the textile industry. Not only for textile, sulphur dyes are widely used in various industries that involve color in a major way. However, if you come out of the comfort zone of sulphur dyes, you will seem lost because it has so many valuable properties that can add to the quality of the product. That is the time when we, at UDC come into the picture. We have the best Liquid Sulphur Black Dye that you can ever imagine. Our company has existed for nearly 3 decades now and you can rest assured that the quality of liquid sulphur dye that you will get from us is incomparable. Here are few more reasons why we are considered the best Liquid Sulphur Black Dye Manufacturer Exporters India has ever come across:
---
Why Choose Sulphur Black Liquid
---
The liquid sulphur dyes that we manufacture can be used in volumes in the textile industry. We already have hundreds of renowned companies who buy liquid sulphur from us to dye cotton clothes.
Another reason why we have been the leading manufacturers of liquid sulphur dye is because the ingredients we use are totally harmless. There have been reports from other companies about the presence of carcinogenic substances, but we guarantee that you will not find anything as such in our product. They are totally environment friendly and can be used anywhere you want.
The liquid phase of the sulphur dye is obtained under strict supervision. We have experts working 24 x 7 on the reducing rate and color development process. Since sulphur dyes only have black, brown and blue colors available, it is important that the color developers keep in mind the dyeing process so that several other colors can be achieved. We ensure that our technicians will deliver the color you want.
Product Details
---
| | |
| --- | --- |
| Packaging Size | 25L, 35L, 50L, 60L |
| Packaging Type | Drum |